I remember seeing the cover to iZombie #1 in the comic book and thinking, "What the hell is this?" then picking it up, thumbing through and then putting it back down without much more thought. Flash-forward to the present where I'm in the local library and I see the first two iZombie trade paperbacks on the shelf and I see that Michael Allred, whose praises I was just singing did the art for iZombie. "How did I miss this last time?" I thought to myself, for his art is reason enough to give the book a chance.
​
​
​
​
​
​
​
​
​
​
​
​
​
​
​
​
​
​
​
​
​
Now I need to confess right now that while I know Michael Allred created Madman, I've never read any of those books. My first experience with Allred was when he took over on X-Force and took what was once a generic book and actually did something interesting with it. This bizarre arc caused Allred's name to stick in my mind all these years. I was shocked when I heard I was penciling the more mainstream reboot of Daredevil (a take on the character, which I rather enjoy). His work in iZombie is everything I like about Allred; a clean, deceptively simple style punctuated with scenes of unexpected gore.
​
​
​
​
​
​
​
​
​
​
​
​
​
​
​
​
​
​
​
​
​
​
​
For iZombie, author Chris Roberson takes all the classic monster tropes and turns them on their ear, creating something unique and often humorous. I had to Google Chris Roberson to find out that he used to write Cinderella, a Fables spinoff, but it makes sense, because he's quite adept at combining all the different monster lore of zombies, werewolves (or wereterrier), ghosts, and vampires seamlessly into one world. Drawing from the Egyptian belief that most beings possess two souls, an oversoul and an undersoul, Robertson has also found a new way to explain the existence of the creatures populating the world of iZombie in a way that is clever and makes logical sense. He is also good at creating a female protagonist who is smart, strong, a bit vulnerable and completely believable.
​
Gwen Dylan is a zombie and despite her purplish skin is somewhat sexy. This is a refreshing take considering how often zombies are portrayed as ugly and rotting corpses. Gwen, in order to avoid becoming a mindless and shambling monster, must eat one brain a month. Fortunately, she works as a gravedigger and fresh corpses are never in short supply. Unfortunately, after eating a brain, she obtains the memories and spirit of the recently deceased and reluctantly Gwen must take care of their unfinished business. In the first story arc, Gwen tracks down the killer of a murdered man, who may not have been an innocent victim. Aiding her throughout, is Ellen the ghost of girl who died in the 50's and Spot the aforementioned were-terrier who grows fur and fangs every full moon, but retains his decent, albeit nerdy core.
​
​
​
iZombie is proof absolute that the zombie genre is not a lifeless corpse and that zombies have needs beyond brains. Brains. Brains.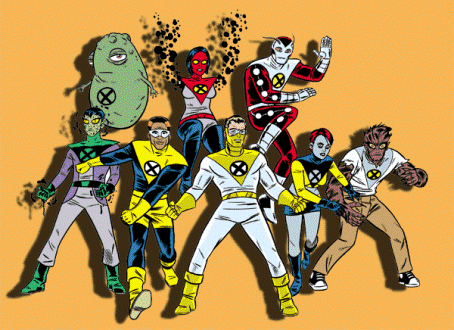 © 2012-2017 Marvel & Disney Inc.
© 2012-2017 Dark Horse/Madman Inc.
© 2012-2017 Izombie DC Inc.